One of the most anticipated Australian tours of the year kicks off tonight. Incase you've been living under a rock, here's that famous poster…
Not sure why that kangaroo looks so pissed, he should be stoked – he's in the thick of it.
Billed as a Violent Soho tour with the support of The Bronx, Luca Brasi and Tired Lion, this circuit may best be seen as a mini-festival. If your mouth is already watering, there are still some tickets available, which you can grab here.
If you've already secured tickets and you're sitting in your high-chair fanning yourself with them as the Australian summer builds (the imagery reminds me of this guy) here's something to get you excited…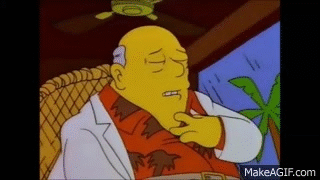 No not that, the following…
Violent Soho
Let me set the scene.
Violent Soho's third studio album, Hungry Ghost had been out for six months. Their first two records were adored by hardcore fans, but did not give them the airtime or commercial success they may have hoped for. Hungry Ghost changed all that. Featuring what are now considered 'Strayan grunge rock classics' the record includes 'Covered In Chrome', 'Saramona Said' and opener, 'Dope Calypso'.
All those tracks and more were played on this fateful night at Sydney's Manning Bar on July 11 2014. Shows how much can change over two years. The Sydney leg of this tour is now the famous Hordern Pavilion.
'Covered In Chrome' is a highlight of this set – just watch what happens during the guitar intro…
For even more of a throwback, we captured the Brisbane four-piece at the Annandale Hotel in August 2008! Now maths isn't my strong point, but gee willikers Batman, that's almost 10 years ago!
Watch this early, ballistic performance of 'Jesus Stole My Girlfriend', which was most probably watched by a handful of people. Oh to be a fly on the wall there.
The Bronx
American hardcore band The Bronx formed in 2002. By the time we captured them at The Metro Theatre Sydney in September 2009, the four piece had released four albums.
Fun fact: Unusually, their first three records were all titled The Bronx. Nine days before we filmed them they released their fourth record, Mariachi El Bronx – but just before you think "oh good they mixed up their name game", think again. Here's their studio album discography to date:
The Bronx (2003)
The Bronx (2006)
The Bronx (2008)
Mariachi El Bronx (2009)
The Bronx (2011)
Mariachi El Bronx (2014)
Regardless, Violent Soho are evidently massive fans, even sharing our gig of theirs to start the hype *self hi-5*.
Featuring a monster 30 tracks (give or take a couple of extended monologues) the Metro Theatre crowd probably weren't aware what a massive show they were in for. Here's to hoping they deliver the goods again on the upcoming tour.
Luca Brasi
Tasmanian punks, Luca Brasi entered our studios not too long ago. We speak to a lot of bands here, but I don't think we've ever met a more down to earth, polite bunch of lads.
Their third record, If This Is All We're Going To Be, meant just that. Balancing work and study with recording took its toll, and it was lingering in the back of their minds that this release might be their last. Fortunately the success took them on their debut North American tour, and also gifted them with this mammoth joint circuit.
The upcoming shows are sure to be electric mayhem, but for us they stripped it back.
Here's 'Say It Back'.
This little ditty is 'Borders And Statelines'
And finally, watch the full lineup chat about their latest record, what was their upcoming American tour, and their lessons learned in the music industry.
Tired Lion
Perth people are Australians too, and undoubtedly know how to write a tune.
We chatted with Western Australian locals Tired Lion at the recent Wollongong festival, Yours & Owls (they tore their setup by the way).
Also a four piece (just realised all the featured bands are a four piece!) pack a punch of 90s infused-catchy-garage-grunge that they spoke to us about here.
Their latest track, 'Agoraphobia' is getting plenty of hype both online and on the airwaves, and goes a little something like this…
I'm hoping this write-up got you as excited I am.
If you're unable to make the show, stay tuned for a review and glamorous gallery.